New Lotto Announced
The new Kilmacud Crokes Club Lotto has just been launched. This is a vital cross-club effort to help raise badly needed funds for the maintenance of the Facilities we all enjoy.  Full details can be viewed by clicking on the lotto link below.
We ask you to support the Scheme by doing some or all of the following:-

Signing up for the 12 months of the Lotto Scheme at a cost of €100 or €10 per month by direct debit for 12 months

Selling Scheme entries to friends and family inside and outside the club.

Supporting the 25 draws over the year by buying and selling individual draw entries at €2 a go, 3 for €5.

Supporting the Lotto Scheme through the Kilmacud Crokes on-line Lotto portal at

locallotto.ie

. Click on the following link:

http://www.locallotto.ie/localhome.asp?LL_ID=441
Each section within the club has been allocated a quota to sell.  If you are in a position to support the Lotto please do so through the Hurling Section to help us fill our quota. 
The First Draw is scheduled for 27th November 2010 with Minimum Jackpot of Euro 1,000. The Lotto Committee is looking for all Scheme entries to be returned by the 21st November 2010 if at all possible.
For more information, click on the image below....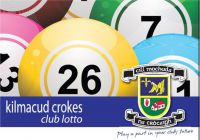 Enquiries to:
Tom Barry
Chairman Kilmacud Crokes Hurling
087-2200527