Report Week Ending 17th April 2011 Part 2
Sunday 17th April 2011
On a day when Dublin hurling took another significant step forward nearly 200 young Crokes caman wielders decamped to Kilkenny for the annual "Kilmacud Crokes on Tour" while a further 35 under 14's went on safari to Cork.
Pairc Ui Chaoimh was bathed in April sunshine as Dublin qualified for their first National Hurling League Final since 1946 with a 1-15 to 1-14 win over Cork.  As the Leesiders went into an 0-4 to 0-1 early lead such an outcome appeared unlikely but the metropolitans slowly clawed their way into the game and went in for tea 0-8 to 0-7 in arrears.  When Cork goaled to go two points ahead it looked curtains for the Dubs but they dug deep and eked out the win.  Qualification to the League Final was secured thanks to Waterford overcoming Galway by a single point.  All attention now turns to the upcoming decider against Kilkenny on 1st May.  For www.hill16.ie report see HERE.  Be sure to get there and support our clubmates Niall Corcoran, Ryan O'Dwyer, Ronan Walsh, Conor Clinton, Barry O'Rorke, Richie Stakelum and Chris Thompson.
Well before the afternoon epic, over 180 young hurlers boarded coaches in Glenalbyn heading Noreside.  This was another great fun day for kids and parents alike.  After mid morning games at O'Loughlin Gaels (under 8), James Stephens (under 9), Castlecomer (under 10), Conahy (under 10), Ballyhale (under 11), Callan (under 12 –v- O'Loughlin Gaels, for photos see HERE) the travellers reconvened for lunch at Hotel Kilkenny before proceeding to Nowlan Park to watch the Allianz League game between Kilkenny and Offaly.  Then it was back to base in high good humour.  Our thanks to the organisers and all our host clubs.  For under 9 report and photos see HERE
Also on the road were the under 14's who took a 35 strong squad to the Pairc Ui Chaoimh game via Ballygunner, Co. Waterford, for an A challenge which ended 8-16 to 4-12 in Crokes favour.  The Kilmacud boys held a 3-8 to 2-5 interval advantage.  Eoin Sheehy, Tom Fox, Stevie O'Dwyer and Alex Considine were prominent.
That evening the B's played Midleton in a challenge.  Despite a slow start and trailing 3-8 to 2-5 at the break, they emerged with a very creditable 5-10 to 4-13 draw.  Cillian Fleming played very well in goal behind an excellent full backline of  Hugh Campion, Ciaran Hennessey and Sean Gorman.  Out the field Louis de Courcy, Jim Gibbons and Michael Roche were among those to shine.
Two further games are lined up against Carrigtwohill and Killeagh respectively on Monday 18th April 2011 before making the return journey.
Silverpark hosted AHL5 and AHL8 matches.  In the former the Junior A's accounted for St Brendans by 1-10 to 0-10.  The sides were level halfway through (1-3 to 0-6).  Barrai Brennan was excellent at centre back.  Defensive colleagues Ger Geoghegan and John Ross Hunt were not far behind.  Up front Conor Caulfield and Eoin Murphy did well.  For report see HERE

The Junior E's lost the afternoon match by 3-17 to 0-8 (half time 2-7 to 0-4) to Realt Dearg despite the best efforts of Fergus Hanley, Hugh O'Connor at full back and Kieran O'Callaghan.
Saturday 16th April 2011
Mid afternoon the intermediates headed down the N7 to play Commercials in Rathcoole.  A tit for tat opening chapter saw Crokes nudge ahead through Alex Pilkington's third minor on the cusp of half time, 0-8 to 0-7.  The visitors streaked into an 0-13 to 0-9 lead within eleven minutes of the resumption and looked to have the points in the bag.  Over the next fifteen minutes the flow of frees went but one way and the Kilmacud side trailed 1-13 to 0-13.  When all seemed lost substitute Alan Carr's chasing of a lost cause was rewarded with a fifty eight minute goal and the sides were on par.  Declan Browne's free shortly after seemed enough to seal the points but Commercials rallied and secured a draw with an injury time over – 1-14 each.  Corner backs Shane McNicholas and Sean Murphy were very solid alongside tigerish full back Niall Lillis, while Shea Gillen occupied the pivotal role in exemplary fashion, ably flanked by Aidan McCarthy.
Team: E Dalton, S Murphy, N Lillis, S McNicholas, A McCarthy, S Gillen, P Clinton, M Coghlan, H Gannon (0-2), J Sweeney (0-2), D Browne (0-3, f-2),  A Tiernan, J Hayes, F Armstrong, A Pilkington (0-5).  Subs: S Garvey for E Dalton (half time), R Mangan for P Clinton (36 mins), A Carr (51 mins, 1-0) for J Hayes.  Two points unattributed.

Thursday 14th April 2011
Marlay Park was the scene for the seniors AHL1 game with Ballinteer St Johns on Thursday 14th April 2011.  The Kilmacud men came out the wrong end of an 0-14 to 1-6 result.  Point for point for the first thirty minutes, the sides were level 0-5 apiece at the interregnum.  A further quarter into the game and St Johns had doubled their score to no reply.  Crokes were behind in the hunger stakes and the award of a long range goal failed to provide the necessary fillip. Ballinteer seemed to raise their game and added four points in the time remaining to one for Crokes.    Throughout, Crokes found it difficult to cope with the slippery underfoot conditions, a vocal home crowd and the adjustment required from having to play two thirds of the game fourteen aside.  For pictures see HERE or click on the image below!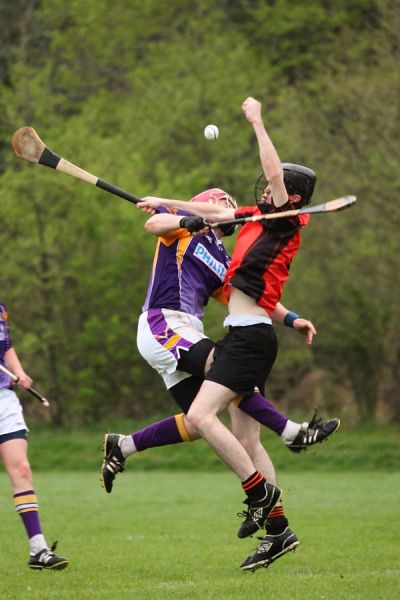 Team: M Collins, N Lillis, W McEvoy, A Grogan, S O'Rorke, J Doughan, G Melican, D Mulligan (0-1), B O'Rorke (0-2), D McVeigh (0-1), J Sweeney, S Gillen, S McGrath (0-1, 65), B Mulligan (1-0), D McGovern (0-1).  Subs: J Burke for G Melican (22 mins), K O'Loughlin for S Gillen (28 mins) and S Gillen for D Mulligan (54 mins).
Tuesday 12th April 2011
On Tuesday the under 13A's came away with a draw against Clontarf, 5-14 to 7-8.  Crokes were up by six points at half-time against the wind and sailing along until about ten minutes from the end when Clontarf came with a late flurry.
Punchestown Race Day-Tue 3rd May 2011
Club's Biggest Social Day
All Star Ken McGrath and Ireland's cricketing hero, Kevin O'Brien, are among the guests of Kilmacud Crokes Hurling at our Punchestown Race Day on Tuesday 3rd May next.  With Dublin now in the National Hurling League Final who knows they might now have for company?
In the most prestigious venue Punchestown has to offer, this top quality event is a superb and excellent value way to entertain clients, staff or friends. 
Please give much needed support by taking a table or seats.
This is the best value corporate package of the week – Other events charge more than 50% again without coach transport and silver service.
Included are: 
Ø  Three Grade 1 races including the 2m Boyle Sports Champion Chase
Ø  Exclusive glass fronted venue - The Punchestown Pavilion in a track-side location with private  lawn overlooking the last fence
Ø  Luxury coach transfers to and from the racecourse included
Ø  Four course silver service meal by Dobbins, with wine served to your table
Ø  Afternoon tea and snacks
Ø  Professional & Celebrity tipsters to mark your card
Cost €1,500 for a table of ten or €150 per person.

Full details can be downloaded from HERE.  To experience the full Festival feel see the "Festival Come to Life" (video in festival 2011 in www.punchestown.com)
Kilmacud Crokes Hurling | Punchestown Workgroup
 Brendan Sweeney 086 043 9637,
Sean Allen 087 255 1602,
Brian Geraghty 087 231 2378,
Peter Corish 087 253 7784,
Tim Dolphin 086 284 6216,
Ed Gibbons 087 251 6262,
Paul Gorman 087 286 5901,
Tom Barry 087 220 0527
Upcoming Fixtures
 

Day

 

Date

 

Team

 

Opposition

 

Venue

 

Time

 

 

 

 

 

 

Monday

18.04.11

U14B

Carrigtwohill (Co Cork)

Carrigtwohill

10.00am

 

 

 U14A

Killeagh (Co Cork)

 Killeagh

 4.00pm

 

 

 

 

 

 

Sunday

01.05.11

MHL 1

Cuala

Shankhill

11.00am

 

 

MHL 3

Liffey Gaels

Liffey Park

11.00am

 

 

 

 

 

 
 Always check with team management for late changes
Nursery Hurling
Nursery Hurling is back and running in Glenalbyn. 
Contacts:  
(U5/U6) Denis Egan (087-7922044),
(U7) Declan Kane (087-2396094)
(U8) Brian Harrison/John Maguire (087-9201743 / 087-6823264),
Kilmacud Crokes Hurling Coach Niall Corcoran (087-9834287)